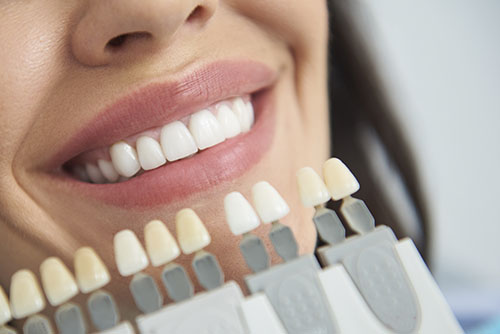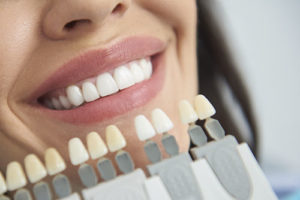 Your smile is often the first thing that someone notices about you. It can be the key to showing the world your personality, to starting a friendship, and even to closing a business deal. But what happens when you are unhappy with your smile? You should get dental veneers in TX!
Whether your smile is less than perfect because of chipped, cracked, discolored, or otherwise imperfect teeth, Lovett Dental offers cosmetic dentistry in Baytown, TX that we can customize to your situation.
Among the most popular of these are dental veneers. If you have been wondering what dental veneers are, or are interested in learning more about getting dental veneers in TX, the team at Lovett Dental has all of the information you need.
Dental Veneers in TX: What Are Dental Veneers?
A "veneer" is a thin layer that can be applied to an object for decorative reasons or to reinforce it when it is in disrepair. In dentistry, a veneer is a thin shell that we shaped to fit your tooth, and when made and applied correctly, they look and feel just like regular, healthy teeth. Dental veneers are bonded to the teeth and generally designed to be permanent. Most of our patients who have received dental veneers have gotten them on their front, upper teeth, and have been very pleased with the process and with the result.
Dental Veneers in TX: The Materials
If you are getting dental veneers in TX, you tend to have two options in terms of materials. They are:
Porcelain. Porcelain dental veneers are most people by seeking dental veneers in TX because they look natural and resist wear and discoloration.
Composite resin. The other option is veneers made of composite resin. Like the porcelain option, your dentist will mold these to fit your teeth. But because of the nature of the materials, there is a slight difference in look and feel.
The fundamental difference is that porcelain veneers are a little more expensive, but they also last significantly longer. Many patients also feel that the porcelain veneers look more natural and are more resistant to discoloration over time. If you want to undo discoloration of your teeth and veneers, get teeth whitening in Baytown, TX today!
Dental Veneers in TX: The Process
For people seeking dental veneer services in TX, the details of the process will depend upon which material you and your dentist select for your dental veneers. The basic steps, however, are as follows:
Consultation. Your dentist will measure and evaluate the condition of your teeth and help you choose the color of veneers that best suit your smile. They will also take impressions of your teeth and may X-ray them as well.
Preparation. We then send the mold of your teeth to a state-of-the-art laboratory, which will custom make your veneers in consultation with your dentist. In the meantime, we will prepare your teeth to have the veneers applied, and fit you with temporary veneers.
Application. Finally, we remove the temporary veneers and bond your dental veneers to your teeth. Your dentist will make adjustments to ensure that you are comfortable and that then you will be ready to meet the world with your new smile!
Call Lovett Dental in Baytown Today
If you are looking for getting dental veneer services in TX, contact Lovett Dental Baytown to schedule your free consultation today.  Make your smile the center of your personality by contacting us online or calling us at 281.346.9510. Before you visit, verify your insurance. That radiant smile is just around the corner!