Have you found yourself smiling less than you used to? Maybe it is because you have lost a couple of teeth and have a gap that needs dental bonding. Gaps like this often make people feel self-conscious, and they stop smiling fully. You can fix this by visiting a dentist, who can create a pair of dentures to give you a natural-looking, functional smile.
What Are Dentures?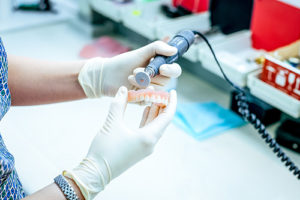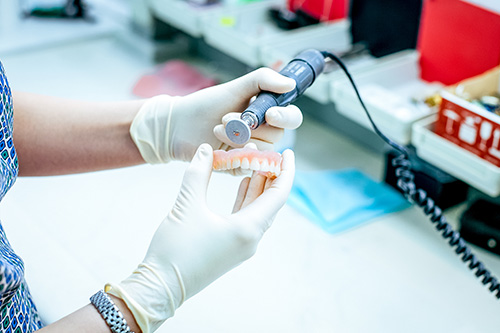 Dentures are basically artificial teeth. Like dental fillings and sealants, they fill gaps in your mouth when a person has two or more missing teeth. Often, dentists can create a whole set by removing an entire row of teeth, called plates. These consist of white teeth attached to a pink base. These plates not only help restore the look of a full set of teeth but also help ensure that you are able to chew your food properly.
Types of Dentures
There are two different types of dentures: partial dentures and full dentures. A person needs partial dentures when they have only a couple of teeth missing. They work by attaching to wires that hook around permanent teeth. These dentures create a kind of bridge over the attached teeth. By filling the gaps left by missing teeth, you can prevent your other teeth from shifting over time and creating more problems. Having the gaps filled also helps prevent other issues like digestive problems from not being able to chew food properly.
Full dentures replace a whole row of teeth, which can be either upper or lower. Some people have the need for both. Full dentures prevent you from having to put stress on your gums when eating. They allow you to enjoy foods that you can't eat when you have no teeth. In some cases, the full denture forms a suction with the gums and roof of the mouth. In other cases, the dentist can place posts under the gums that the plates attach to.
Creating Your Dentures
Once your gums begin to heal and the gaps made by the missing teeth start to fill in again with bone and tissue, your dentist makes a series of impressions of your mouth. Then, they create a mold from these impressions. Slowly, the technician starts to use plastic-type material to build a structure that mimics the structure of your mouth. The teeth are slowly built and shaped to look natural. You will have to visit the dentist several times during this process in order to ensure the look of the dentures is natural for your mouth shape and size. When the dentures are complete, the dentist will place them and again check for proper fit. You will have to visit again in a couple of weeks after the dentures have had time to settle so the dentist can check a final time for proper fit.
The dentures may take a little time to get used to but before long you will be able to eat naturally and your smile will begin to return as you feel more confident about how you look. It may seem like a lot of work at first, but getting the proper fit is definitely worth it when it allows you to smile once again.
Let Us Restore Your Smile
At Lovett Dental Baytown, we want to help you get your smile back. If you are missing only a couple of teeth or an entire row of teeth, we can help fit you with dentures that will make you want to smile again. Contact our dentistry at 281-838-8400 and talk with our experienced staff about what type of dentures are best for you. We look forward to seeing you.