At Lovett Dental Baytown, we understand the difficulties in keeping track of all family members' changing dental needs. Children, teenagers, adults, and aging parents will all need different types of dental services. When you choose a family dental practice, there is no age restriction. If you are looking for a Baytown dentist, Lovett Dental Baytown offers services for the entire family.
Choosing a Family Dentist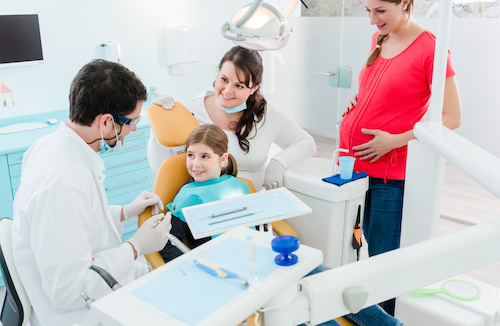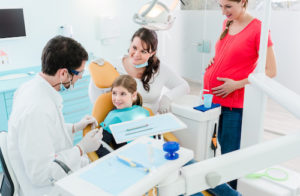 When you choose Lovett Dental Baytown as your family dental practice, you are choosing to partner with a dental group that will address your family's dental health at all stages of life. Toddlers benefit from dental services to promote healthy brushing habits and assuage fears surrounding dental visits. Lovett Dental Baytown helps start an early regimen of checkups that prevent cavities and tooth decay. For senior citizens, having good dentures can vastly improve confidence and proper chewing. Your family dentist can provide therapies that heal sore gums and strategies to replace lost teeth in older adults.
A family dental practice can treat the young and the old, and everyone in between. Growing children and teenagers benefit from the improved self-esteem that straighter, whiter teeth will promote. Adults face different challenges and may be focused on avoiding gum disease like gingivitis or periodontitis, treating teeth sensitivity, and requiring various dental services from routine cleanings to crowns and bridges.
Your local family dentist offers a wide range of dental services for all age groups under one roof. What you can expect when you choose to select one family dental practice for your entire family is developing a trusting relationship that your family can depend on. When an emergency arises, both the patient and the practice are confident in the services given and received due to the history established through the years.
Family Dentists in Baytown
Our general dental services at Lovett Dental Baytown are comprehensive, serving both individuals and families. No matter what your needs are or those of your family, we can accommodate you.
General Dentistry
Cosmetic Dentistry
Pediatric Dentistry
Cleaning and exams
Teaching oral health to children
Monitoring tooth development
Diagnosis and treatments, i.e., teeth grinding
Emergency Dental Care
Pain management
Emergency extractions
Swelling or abscess
Bitten tongue or lip
Lost tooth or filling
Choose Lovett Dental Baytown's Family Dental Practice
While you may have many local choices for Texas family dentistry, many considerations can help your family make a wise decision. Check to see what practices are in-network with your dental insurance provider. This way, you save on discounted rates and avoid unexpected out-of-network charges. A family practice will treat a wide variety of normal dental conditions and offer referrals when you or a family member needs to see a dental specialist.
Your Baytown dental office should have a friendly staff, clean rooms, disinfected dental chairs, and trusted professionals to help keep your family safe and comfortable.
Lovett Dental Baytown is the type of family practice that you would be proud to refer friends and other family members to visit. Schedule an appointment today at 281.346.9510. Ensure you bring your family's dental history and any insurance documents on your first visit for faster service.