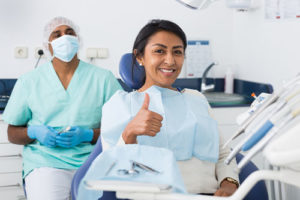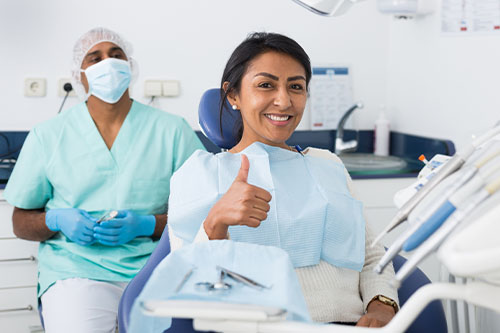 When you think of the dentist, you may think of routine teeth cleanings and cavity fillings. However, there are plenty of other things dentists can assist you with. Dentists who have the right training can provide specialty dental services that solve more unique problems. Specialty dental services cover a wide range of procedures. But they generally address a restorative need. Our dentists at Lovett Dental Baytown are eager to help you have the smile you've always dreamed of. Our specialty services can restore or maintain the look and feel of your teeth, ensuring your satisfaction and confidence. Reaching out to learn about orthodontic services in Houston along with additional specialty options can make an incredible difference in your oral health.
Root Canal and Gum Treatment Specialist Services
A tooth is only as healthy as the dental pulp situated underneath the enamel. Fortunately, endodontics, the field of dental pulp surgery, is one of the many specialist dental services we offer. The right endodontic procedure can help remove pain and save a damaged tooth from falling out. The most common endodontic treatment that patients need is a root canal. This treatment involves cleaning any damaged or infected pulp and filling in the empty area of the tooth. With our specialist services and general dentistry services, this is a pain-free solution that lets you keep your natural teeth.
The health of your gums has a huge impact on both your teeth and your overall health. If these sensitive tissues become inflamed, you can end up with various painful and dangerous infections. Therefore, it is very important to treat gingivitis and gum disease before it worsens. Our team of board-certified periodontists at Lovett Dental provide a variety of specialty dental services in Baytown, Texas, including:
Root planings
Tissue grafting
Bone and tissue regenerative procedures
All these procedures help to create healthy, infection-free gums that fit securely against the teeth.
Our Specialty Dental Services
If you have anxiety when going to the dentist, don't let that stop you from getting the dental specialist services you deserve. Sedation dentistry is a relatively new technique designed to help you if you experience anxiety. If you have problems like sensitivity to pain, extreme gag reflexes, or dentophobia, sedation dentistry can reduce your discomfort and awareness during procedures. Depending on your needs, we can provide you with sedation options like nitrous oxide or IV sedation. Some of the other specialty services we offer include:
Another issue we can address is impacted teeth, a frequent specialty dental issue. This is when your teeth are bunched together, sometimes leaving gaps or looking buckled and twisted. If you have a crooked smile, there is no need to feel self-conscious. Orthodontic treatments and dental braces are a type of specialty dental services that helps to realign teeth. Orthodontic treatments can be used to fix crooked teeth, tooth gaps, twisted teeth, jaw misalignment, overbites, and more. There are all sorts of helpful options to choose from, ranging from invisible clear aligners to traditional metal braces.
Oral surgeons need years of additional training to safely perform surgery on the teeth, bones, and muscles of the jaws. There are all types of oral surgery, including wisdom tooth removal, tooth extractions, and bite corrections. Oral surgeons also use their skills to help replace lost teeth. A particularly common type of oral surgery is dental implants. This type of artificial tooth replaces any lost tooth with an implanted prosthetic that looks and behaves like a real tooth. This can help restore your smile after injury or accidents cause tooth loss.
Pediatric Specialty Dental Services
Having positive dental experiences as a child can ensure that your children have healthy teeth for years to come. Children also have some unique dental needs as they work on growing strong, healthy teeth. Therefore, it is important to pick a dentist trained in treating children instead of just selecting a random dentist. The pediatric specialists at Lovett Dental Baytown take the extra time to make sure your child has a fun and educational experience. With our dental knowledge, we can make sure that younger patients have proper treatment.
Discover How Lovett Dental Baytown Can Meet Your Dental Needs
Our staff at Lovett Dental Baytown is fully equipped and trained to handle all your special dental procedures so that you can get the smile you have dreamed of. If you or a loved one can benefit from any of these specialty dental services in Baytown, Texas, contact us online or call us at 281-838-8400.